Posts for tag: oral surgery
By Capitol Dental Associates
November 04, 2019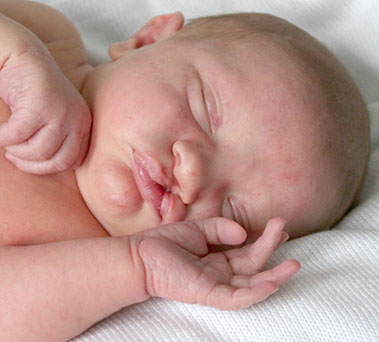 One in 700 babies are born each year with a cleft lip, a cleft palate or both. Besides its devastating emotional and social impact, this common birth defect can also jeopardize a child's long-term health. Fortunately, incredible progress has occurred in the last half century repairing cleft defects. Today's children with these birth defects often enter adulthood with a normal appearance and better overall health.
A cleft is a gap in the mouth or face that typically forms during early pregnancy. It often affects the upper lip, the soft and hard palates, the nose or (rarely) the cheek and eye areas. Clefts can form in one or more structures, on one side of the face or on both. Why they form isn't fully understood, but they seem connected to a mother's vitamin deficiencies or to mother-fetus exposure to toxic substances or infections.
Before the 1950s there was little that could be done to repair clefts. That changed with a monumental discovery by Dr. Ralph Millard, a U.S. Navy surgeon stationed in Korea: Reviewing cleft photos, Dr. Millard realized the "missing" tissue wasn't missing—only misplaced. He developed the first technique to utilize this misplaced tissue to repair the cleft.
Today, skilled surgical teams have improved on Dr. Millard's efforts to not only repair the clefts but also restore balance and symmetry to the face. These teams are composed of various oral and dental specialties, including general dentists who care for the patient's teeth and prevent disease during the long repair process.
Cleft repairs are usually done in stages, beginning with initial lip repair around 3-6 months of age and, if necessary, palate repair around 6-12 months. Depending on the nature and degree of the cleft, subsequent surgeries might be needed throughout childhood to "polish" the original repairs, as well as cosmetic dental work like implants, crowns or bridgework.
In addition to the surgical team's skill and artistry, cleft repair also requires courage, strength and perseverance from patients and their parents, and support from extended family and friends. The end result, though, can be truly amazing and well worth the challenging road to get there.
If you would like more information on repairing cleft birth defects, please contact us or schedule an appointment for a consultation. You can also learn more about this topic by reading the Dear Doctor magazine article "Cleft Lip & Cleft Palate."
By Capitol Dental Associates
March 01, 2017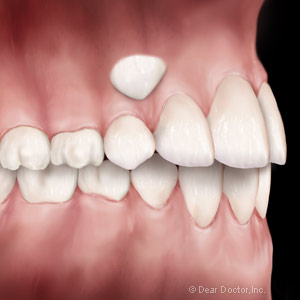 The final emergence of permanent teeth in late adolescence marks the end of a long process beginning in the womb with the formation of our primary or "baby" teeth. Permanent teeth form in a similar way as buds high in the jaw, continuing to grow until the primary teeth ahead of them fall away. The crowns of the new adult teeth eventually break through the gum tissue and emerge (erupt) into view.
At least, that's normally what should happen; sometimes, though, a tooth may only erupt partially or not at all, a condition known as impaction. The crown remains partially or fully submerged below the gum line, causing the tooth to press against other teeth, potentially damaging them. It can also make periodontal (gum) tissues adjacent to the area more susceptible to disease. Wisdom teeth are especially prone to this kind of impaction, to the extent they're often surgically removed (extracted) to avoid future problems to adjacent teeth or the bite.
Upper canines (the "eye teeth" normally located directly below the eyes) are also subject to impaction. But because of their highly visible position, extracting them could have an adverse impact on the patient's smile. In this case, we often attempt instead to expose and ultimately save the tooth.
Before taking any action, however, an orthodontic examination is conducted first to pinpoint the exact position of the impacted tooth and determine how that position might affect moving teeth into a more desired alignment. If we find the impacted canine is in a workable position, the next step is to surgically uncover the tooth from the gum tissue (a minor procedure usually performed by an oral surgeon or periodontist). Once exposed, an orthodontic bracket with a small attached gold chain is bonded to the tooth. The gums are then sutured back into place with the chain exposed and allowed to heal.
At some future point an orthodontist will attach the chain to orthodontic hardware that will pull the impacted tooth into proper position over several months. As a result, the upper canine becomes "un-impacted"; the dangers to surrounding teeth and tissues are also reduced. And, just as important, we can preserve the tooth and with orthodontics achieve an attractive, normal smile.
If you would like more information on the effects and treatment of impacted teeth, please contact us or schedule an appointment for a consultation. You can also learn more about this topic by reading the Dear Doctor magazine article "Exposing Impacted Canines."
By Capitol Dental Associates
November 19, 2014
Although periodontal (gum) disease is the most common cause of bone loss in the mouth, women at or past menopause face another condition that could cause complications with their oral bone health — osteoporosis.
While normal bone goes through a balanced cycle of resorption (the dissolving of bone tissue) and re-growth, osteoporosis, a hormone-induced disease, tips the scale toward resorption. This reduces bone density, which weakens the bone and makes them more susceptible to fracture.
Some studies have shown a link between osteoporosis and existing gum disease; however, the greater concern at present from an oral health standpoint regards the side effects of a certain class of drugs called bisphosphonates used in the treatment of osteoporosis. Bisphosphonates slow excessive bone resorption, which helps restore normal balance to the bone growth cycle.
Some long-term users of bisphosphonates, however, may develop a complication in their jaw bone known as osteonecrosis in which isolated areas of the bone lose vitality and die. This can complicate certain types of oral surgery, particularly to install dental implants (which rely on stable bone for a successful outcome). While research is still ongoing, it does appear individuals at the highest risk of osteonecrosis are those with underlying cancers who receive high-dose intravenous bisphosphonate treatment every month for an extended period of time.
It's important then that you let us know before any dental procedure if you've been diagnosed with osteoporosis and what treatment you're receiving for it. If you've been taking a bisphosphonate for an extended period of time, we may recommend that you stop that treatment for three months (if possible) before undergoing oral surgery. While your risk of complications from osteonecrosis is relatively small, adding this extra precaution will further reduce that risk and help ensure a successful outcome for your scheduled dental procedure.
If you would like more information on osteoporosis and oral health, please contact us or schedule an appointment for a consultation. You can also learn more about this topic by reading the Dear Doctor magazine articles "Osteoporosis & Dental Implants" and "Good Oral Health Leads to Better Health Overall."