Posts for: August, 2015
By Capitol Dental Associates
August 29, 2015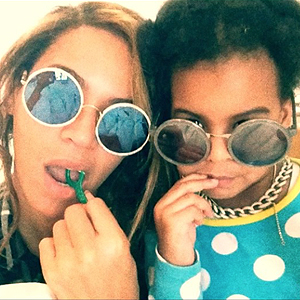 As is the case with most celebs today, Beyonce is no stranger to sharing on social media… but she really got our attention with a video she recently posted on instagram. The clip shows the superstar songstress — along with her adorable three-year old daughter Blue Ivy — flossing their teeth! In the background, a vocalist (sounding remarkably like her husband Jay-Z) repeats the phrase "flossin'…flossin'…" as mom and daughter appear to take care of their dental hygiene in time with the beat: https://instagram.com/p/073CF1vw07/?taken-by=beyonce
We're happy that this clip highlights the importance of helping kids get an early start on good oral hygiene. And, according to authorities like the American Dental Association and the American Academy of Pediatric Dentistry, age 3 is about the right time for kids to begin getting involved in the care of their own teeth.
Of course, parents should start paying attention to their kids' oral hygiene long before age three. In fact, as soon as baby's tiny teeth make their first appearance, the teeth and gums can be cleaned with a soft brush or cloth and a smear of fluoride toothpaste, about the size of a grain of rice. Around age 3, kids will develop the ability to spit out toothpaste. That's when you can increase the amount of toothpaste a little, and start explaining to them how you clean all around the teeth on the top and bottom of the mouth. Depending on your child's dexterity, age 3 might be a good time to let them have a try at brushing by themselves.
Ready to help your kids take the first steps to a lifetime of good dental checkups? Place a pea-sized dab of fluoride toothpaste on a soft-bristled brush, and gently guide them as they clean in front, in back, on all surfaces of each tooth. At first, it's a good idea to take turns brushing. That way, you can be sure they're learning the right techniques and keeping their teeth plaque-free, while making the experience challenging and fun.
Most kids will need parental supervision and help with brushing until around age 6. As they develop better hand-eye coordination and the ability to follow through with the cleaning regimen, they can be left on their own more. But even the best may need some "brushing up" on their tooth-cleaning techniques from time to time.
What about flossing? While it's an essential part of good oral hygiene, it does take a little more dexterity to do it properly. Flossing the gaps between teeth should be started when the teeth begin growing close to one another. Depending on how a child's teeth are spaced, perhaps only the back ones will need to be flossed at first. Even after they learn to brush, kids may still need help flossing — but a floss holder (like the one Beyonce is using in the clip) can make the job a lot easier.
If you would like more information about maintaining your children's oral hygiene, please contact us or schedule an appointment for a consultation. You can learn more by reading the Dear Doctor magazine articles "Top 10 Oral Health Tips For Children" and "How to Help Your Child Develop the Best Habits for Oral Health."
By Capitol Dental Associates
August 14, 2015
Barley malt, corn syrup, maltodextrin — these and over fifty other label ingredients are all names for refined sugar. Under its various aliases, this sweet carbohydrate is tucked away in three-quarters of packaged foods in the U.S.
Although in recent years the general health effects from too much sugar have gained the spotlight, its effect on dental health has been known for decades. Accumulated sugar in the mouth is a prime food source for bacteria that cause tooth decay and gum disease.
For both general and oral health, people have been looking to artificial alternatives to satisfy their sweet tooth. But do they have their own issues that can impact overall health? Here is an overview of some of the more popular brands of artificial sweeteners and their effect on health.
Saccharin — One of the most widely used artificial sweeteners, saccharin is often used under the names Sweet'N Low or Sugar Twin in low-calorie foods because it contains no calories. According to the Food and Drug Administration (FDA) there are no associated health risks with consuming saccharin in recommended servings.
Aspartame — used commonly in beverages as Equal or NutraSweet, aspartame is unsuitable for cooking because its chemical structure breaks down under high heat. Although generally safe for consumption, it can affect people with a rare condition known as phenylketonuria that can't adequately break down its chemicals.
Sucralose — marketed as Splenda, this sweetener is made by chemically altering refined table sugar so the body can't process it. This may be one reason it has the most recognized natural flavor profile among consumers and is a market leader. It's stable at high temperatures, so it's often used in cooked or baked goods.
Stevia/Erythritol — this combination of an extract from the extremely sweet herb stevia and the sugar alcohol erythritol is marketed as Truvia. Unlike other calorie-free artificial sweeteners, this and other alcohol-based sweeteners have a low calorie level due to sugar alcohol's characteristic of slow and incomplete absorption during digestion.
Xylitol — although all the previously mentioned sweeteners won't promote bacterial growth like refined sugar, the sugar alcohol xylitol — often added to chewing gum and mints — has an added benefit: it may actually reduce levels of bacteria most likely to cause decay.
If you would like more information on the effect of sweeteners on dental health, please contact us or schedule an appointment for a consultation. You can also learn more about this topic by reading the Dear Doctor magazine article "Artificial Sweeteners."