Posts for: April, 2015
By Capitol Dental Associates
April 24, 2015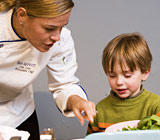 When Cat Cora is not doing battle as the first female chef on the Food Network's hit series Iron Chef America, she is busy caring for the needs of her four active young sons. This includes monitoring the food they eat and their oral hygiene habits.
The busy chef, restaurateur, author, philanthropist and television personality recently revealed in an interview with Dear Doctor magazine that it all started when her four sons were little. She got rid of bottles and sippy cups as soon as possible to prevent tooth decay. She also started exposing her boys to a wide variety of spices and foods when they were infants — for example, by putting cinnamon in their baby cereal. Cat limits the amount of sugar in their diet by using fruit puree in baked goods and BBQ sauces, or the natural sugar substitute Stevia. Furthermore, Cat reports, "my kids have never had fast food."
Cat is right on target with her approach to her children's oral health. In fact, we are often asked, when is the right time to schedule a child's first dental appointment? Our answer surprises some people — especially those expecting their first child.
The ideal time to take your child to the dentist is around age 1. Why so young? A baby's first visit to the dentist sets the stage for lifelong oral health. Besides, tooth decay can start very early. Baby Bottle Tooth Decay (BBTD), as the name suggests, impacts children who often go to sleep sipping a bottle filled with a liquid containing natural or added sugars, such as formula, fruit juice or a fruity drink mix. Another condition, Early Childhood Caries (ECC), is often found in children who continuously use sippy cups (again, filled with sugary liquids), children who breast feed at will throughout the night, children who use a sweetened pacifier, and children who regularly take sugar-based oral medicine to treat chronic illness.
To learn more about this topic, continue reading the Dear Doctor magazine article "Age One Dental Visit." Or you can contact us today to schedule an appointment. And to read the entire interview with Cat Cora, please see the article "Cat Cora."
By Capitol Dental Associates
April 09, 2015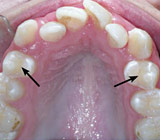 Not only can orthodontic treatment transform your smile, it can also restore function to your teeth and mouth that will improve both your oral and general health. But any treatment to straighten misaligned teeth requires careful planning. Depending on the exact nature of your misalignment, there may be some additional steps we would need to perform before undertaking orthodontic treatment.
One common need is space to help relieve overcrowding. To make room for tooth movement, often a tooth may need to be removed if the crowding is excessive. The most likely candidates are the first bicuspids, teeth located between the cuspids (or eyeteeth, located in line under the eyes) and the second premolar located in front of the molar teeth. The removal of these first premolars won't have a great effect on future form or function. Under the gentle pressure exerted by the braces, neighboring teeth will move and fill in the open space. Today's orthodontist goes to great lengths to avoid removing any teeth; in severe overcrowding, though, this is an acceptable way to create needed space.
Damaged teeth in need of replacement may also be removed before orthodontics and certainly more desirable — if any tooth needed to be removed, you would always choose a damaged tooth first. The object is to first preserve the underlying bone and close the space to avoid replacing that tooth or, if not possible, maintain the correct amount of space for any future restoration.
As living tissue, bone constantly reshapes in response to its environment. If it no longer senses a tooth (or the forces exerted by a tooth when biting or chewing), the bone will slowly disappear through a process known as bone resorption. To counteract this process, we may graft material (like processed donor bone) into the socket to encourage and maintain bone growth. This creates a platform for future tooth replacements like implants or bridgework after orthodontic treatment.
After orthodontics, it may also be necessary to install some type of "placeholder" (temporary bridgework or partial denture) in the area of missing teeth. Keeping the teeth from migrating into the space will improve the chances that any permanent restoration like an implant or fixed bridgework will look natural — as if it belonged there the entire time.
A complete dental examination will indicate whether any teeth need to be removed before undergoing orthodontic treatment. If necessary, taking this strategic step will help ensure we achieve the best result — a winning smile.
If you would like more information on tooth removal and other options to enhance orthodontics, please contact us or schedule an appointment for a consultation. You can also learn more about this topic by reading the Dear Doctor magazine article "Tooth Removal for Orthodontic Reasons."