Posts for: October, 2014
By Capitol Dental Associates
October 20, 2014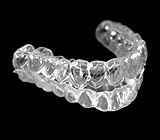 Your braces have finally been removed and you've unveiled your new smile to the world. You're finished with orthodontics — right?
Not quite. If you want to "retain" your new smile you'll need to wear a retainer appliance: depending on your age and which teeth were moved, that could be for several months or even indefinitely.
Retainers are necessary because of how teeth naturally move within the mouth. Although your teeth may seem rigidly set in bone, they're actually held in place by an elastic tissue called the periodontal ligament. This tissue is quite dynamic in response to biting forces or even normal tooth wear. When forces are applied to a tooth, it's the ligament that transmits pressure against the teeth to gradually move them to a more accommodating position. In response, the bone resorbs (dissolves) on the side of the tooth moving toward the new position while laying down new growth on the other side. This bone growth will help anchor the tooth in the new position.
Braces use this natural process to gradually move teeth; both the ligament and bone will reform as needed. But this reforming process takes time. Furthermore, there's a natural balance between the teeth, the tongue and the lips and cheeks. Although the new position created by orthodontics may be more aesthetically pleasing, it may disrupt the natural balance of these surrounding muscles. The influence of habits like clenching or grinding of your teeth may also disturb the new tooth position. The natural tendency is to revert back to the original tooth position.
We use retainers to prevent this reversal. Nearly all orthodontic patients will initially wear them all the time, and for younger patients this may be reduced to wear only during sleep time. Total wear time usually lasts a minimum of eighteen months, until the bone and ligament have fully reformed.
For older patients, though, retainer wear may need to continue indefinitely to prevent "relapse." In these long-term cases another option to a removable retainer is to permanently bond thin retainer wires to the inside surfaces of the front teeth. The wires can remain in place for several years and are much less noticeable than a removable retainer.
While retainers are often considered inconvenient, they're absolutely necessary for preserving the results of orthodontic treatment. In the end they'll help you keep the form and function of your new smile.
If you would like more information on orthodontic retainers, please contact us or schedule an appointment for a consultation. You can also learn more about this topic by reading the Dear Doctor magazine article "Why Orthodontic Retainers?"
By Capitol Dental Associates
October 14, 2014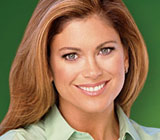 It is not often that you find a celebrity who is willing to speak candidly about any cosmetic or restorative dentistry that he or she has had. Instead, most prefer that their fans just assume that their dazzling "Hollywood" smile is something that just happened naturally. However, that is not the case with Kathy Ireland, the former Sports Illustrated cover girl, current business mogul and founder of kathy ireland Worldwide, a billion dollar marketing and design firm. In a Dear Doctor magazine cover story she talks openly about her dental experiences, injuries and treatment so that people worldwide can understand what may be possible for them.
For Kathy, it happened several years ago when she was playing with her husband and children in their driveway. Kathy decided that she would stand in her children's wagon and surf across their driveway. Instead, she ended up "face-planting," as she describes it, in a freak accident that left her with a broken nose, split forehead and several broken teeth. She recalls that it sounded like a watermelon had smashed. Luckily, her husband, an emergency room physician, was on hand to care for her. Kathy is just as thankful to her cosmetic and restorative dentist who restored her trademark smile with some veneers and a dental implant. Today, the only reminder she has from this accident is a small scar on her nose that she covers with a little makeup.
You would think that this accident would be enough trauma for one person; however, Kathy describes an earlier accident where she knocked out a tooth and then later knocked it loose again. Kathy also wanted to take the time to let readers know that her dental implant experiences were "pretty easy." She did recall, "hearing all the sounds while all of it was going on" and then added, "but I have to tell you, that after being a mom and having kids, going to the dentist...is like going to the spa!" She said that she has even fallen asleep in the dental chair.
To learn more about Kathy Ireland, continue reading the Dear Doctor magazine article "Kathy Ireland." Or if you think cosmetic or restorative dentistry is right for you, contact us today to schedule an appointment to discuss your specific goals.